8 | 2021
Literary Postures and the Writer's Social Image within Romanian Culture
Dossier coordonné par / Edited by Magdalena Răduță, Ligia Tudurachi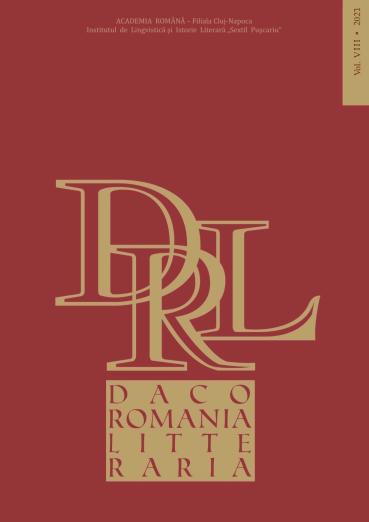 ISSN 2360 – 5189
ISSN–L 2360 – 5189
[Text integral]
Vu généralement comme l'articulation d'une conduite et d'un discours, le concept de posture essaie de dépasser la séparation (y compris méthodologique) entre les dispositifs sociologiques du collectif et l'individualité créatrice. Son enjeu est de prendre en compte, simultanément, les manières d'un auteur de faire entendre sa voix singulière et les conditions sociales qui rendent cette voix intelligible. Historicisante, la posture réunit les positionnements auctoriaux d'une certaine époque, en dépassant les descriptions des caractéristiques sociales des auteurs dans le champ littéraire ; à l'aide des outils proches à l'analyse de discours, elle identifie des représentations du soi créateur dans les discours publiques des auteurs et dans leurs textes littéraires, en cartographiant à travers cette identification toute une série d'instances de médiation propres au fait littéraire (de la spécificité du processus éditorial jusqu'aux formes du spectacle médiatique où l'écrivain se trouve inscrit).
Ce que nous nous sommes proposés dans ce dossier thématique de la revue Dacoromania litteraria, c'est de cartographier – pour la première fois d'une manière systématique et à l'aide de l'instrument postural – l'espace littéraire roumain, et de dresser cette image tout en choisissant un moment significatif de son histoire récente : le changement de régime politique en décembre 1989 et les trois décennies qui lui ont suivi. Ce qu'a expérimenté l'écrivain roumain pendant le communisme a été surtout la mise en danger de sa présence dans l'espace publique. Si cela ne l'a pas destiné entièrement à la solitude et à la claustration, au moins elle lui a conditionné de manière dramatique les apparitions sur la scène littéraire et le fonctionnement dans la communauté d'écrivains. C'est seulement après 1990 que l'écrivain roumain réussit à reprendre son engagement politique, qu'il arrive à se réinventer une figure d'auteur et à se mobiliser pour des mises en scènes de soi, qu'il s'expose vraiment, à côté d'autres acteurs publics. Autrement dit, c'est justement le nouvel ordre social de la Roumanie d'après 1990 qui offre aux écrivains roumains la possibilité de médiatiser un ethos auctorial à travers d'autres pratiques que celles qui portent exclusivement sur la « scène » textuelle.
Postures féminines / Gender Stakes of Posture
Andrada FĂTU-TUTOVEANU
The Electric Mirror. Memory, Self-Fiction, Postures and Poses.
The Distance between Me and Me
(2018)
/ 18
[
Abstract
/
Rezumat
] [
Full Text
]
Engagements politiques / Political Stakes
Mythologies littéraires / Literary Mythologies
Comptes rendus / Book Reviews